ARCHICAD 20: Running with a New Crowd
As one of the longest-running building information modeling (BIM) platforms on the market, ARCHICAD has carved out its place in the architecture, engineering and construction (AEC) industry. Now, however, it's looking to carve out a new niche in today's smartphone-centric world with ARCHICAD 20's sleek design.
With its new release, GRAPHISOFT's flagship software is sporting a newer look—and one of its headlining features is a new user interface designed to appeal to the younger generation.
Here's a look at how it works:
So what are some of the new features that users can expect to see in ARCHICAD 20?
Show and Tell: Features for Collaboration
ARCHICAD 20 has all kinds of new goodies for collaborative workflows.
Users will be able to store all relevant project information within a BIM model, including data that wasn't created in CAD or BIM tools—which is good news for those Excel spreadsheets. The software will also be able to import and export Excel data semi-automatically using a "Mass property value import" functionality, which reduces the risk of human error when entering consultants' data.
The software also promises to reduce the necessity of traditional supplementary 2D CAD work with a graphical override that lets users change the representation of any 2D and 3D views for elements with similar properties.
ARCHICAD 20 also claims a spot as one of the first BIM applications to support the IFC 4 open-source standard, which includes new coordination workflows like Design Transfer View and Reference View. It also includes full support for BIM Collaboration Format and DXF/DWG roundtrip conversion and is fully compliant with COBie.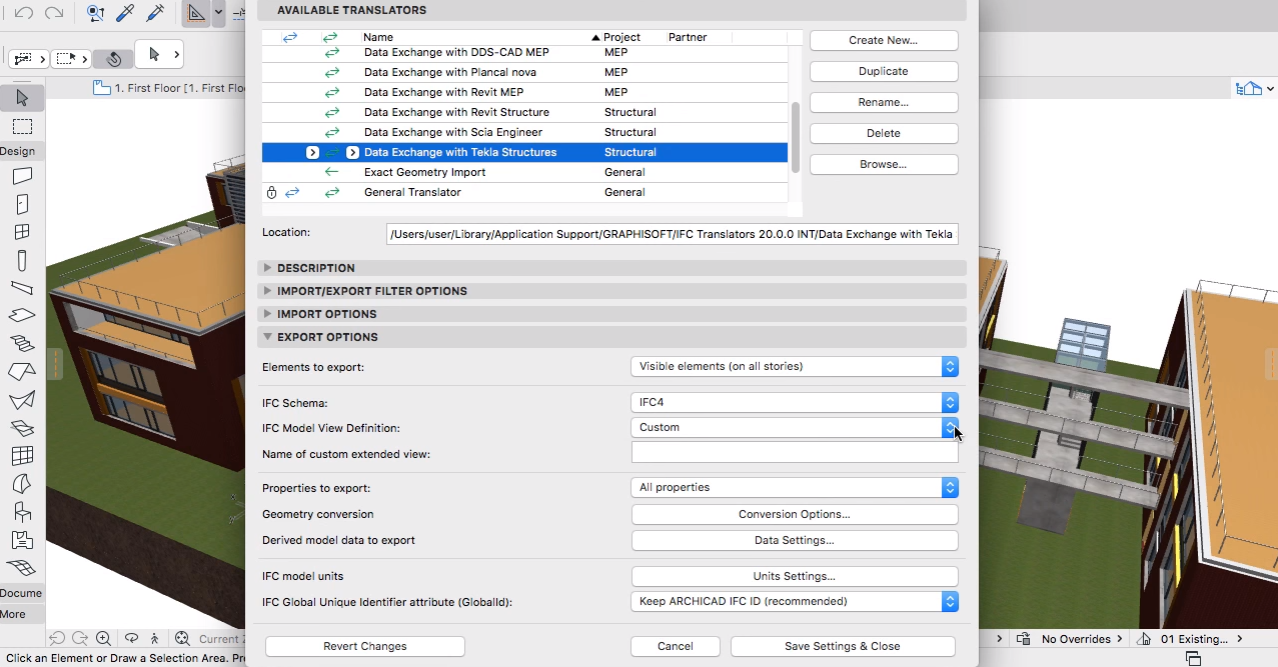 As part of its new release, ARCHICAD 20 will have full support for IFC4. (Image courtesy of GRAPHISOFT.)
See It in Technicolor: Graphical Favorites
A new Graphical Favorites feature saves element settings with automatically generated, color 2D or 3D thumbnails that users can assign to every tool. This feature is intended to help BIM managers set up and enforce project templates and speed up everyday design development.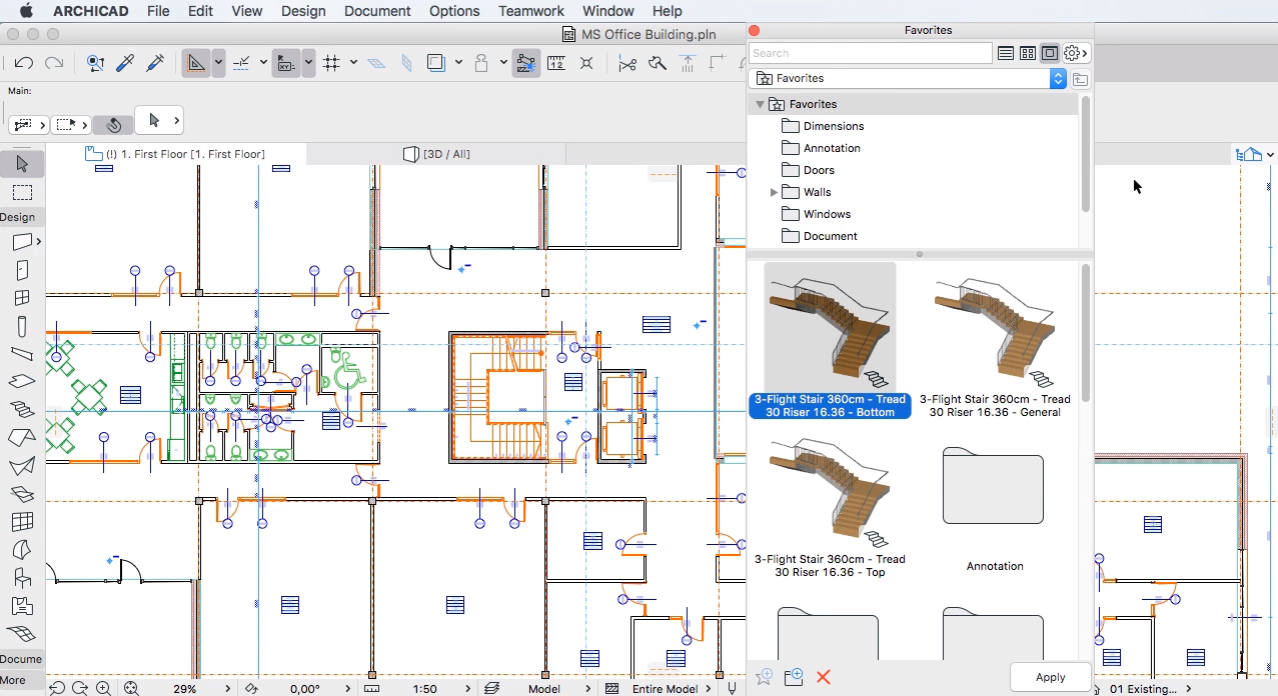 A look at the Graphical Favorites menu, which can switch its thumbnails between 2D and 3D. (Image courtesy of GRAPHISOFT.)
These Favorites can also be organized into customized folder hierarchies for fast access and can be exported in binary or XML formats.
Imagine: BIM Visualization
ARCHICAD's CineRender engine has gotten an update, which boasts more realistic surfaces, realistic contact shadows and reduced render times. The latter is made possible with a new ray-tracing capability in the Physical Renderer.
The new release will also feature a two-point perspective tool, allowing users to switch from a 3D perspective to a two-point perspective from any camera angle.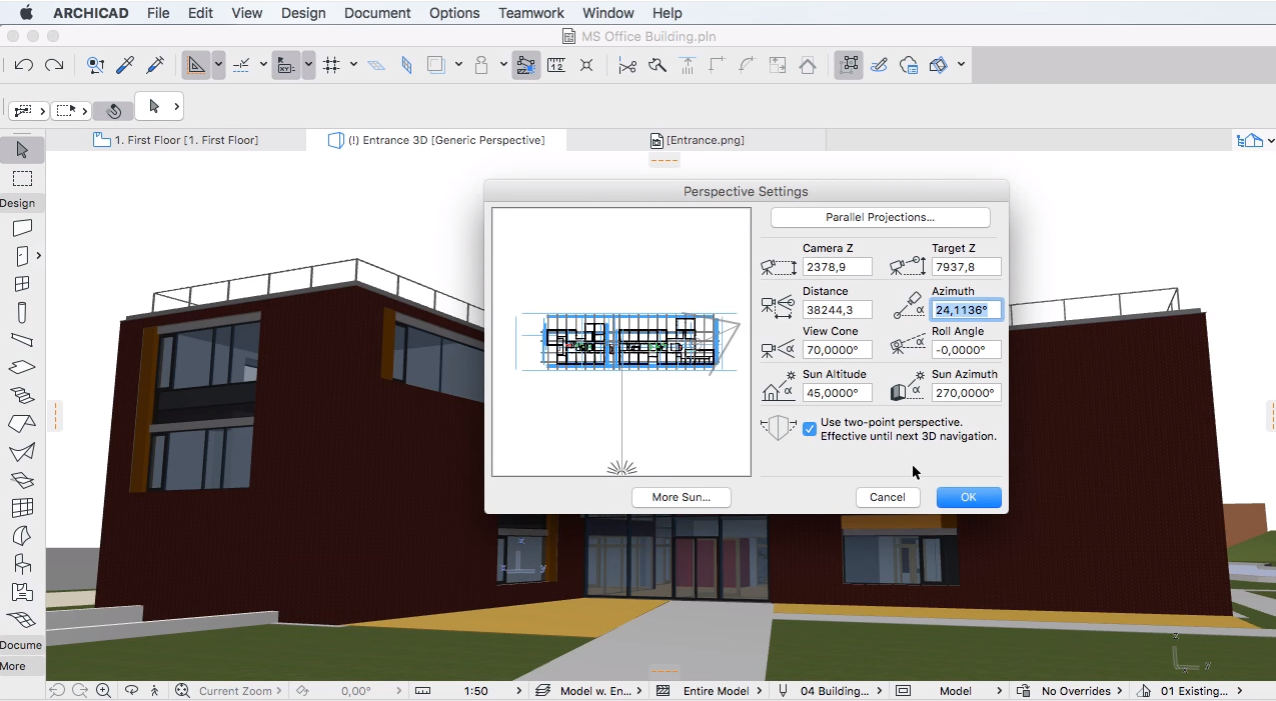 A look at the perspectives options in ARCHICAD 20. (Image courtesy of GRAPHISOFT.)
Fresh-Faced: Updated User Interface
ARCHICAD 20 is designed to put a fresh new face forward and to do this, the software is designed to look more like a mobile app than a traditional desktop platform.
Its fun new look is intended to bring a unified, up-to-date and professional style to the latest Mac and Windows OS releases. It includes some restructuring to show the most-used functions while relocating lesser-used ones and it features a new tab-based navigation system. It will also include support for 4K and retina displays.
"The true potential of BIM is that it can hold all the necessary information for designing, constructing and operating buildings," said Peter Temesvari, director of product management at GRAPHISOFT. "A significant part of this information is non-geometrical data. ARCHICAD 20 offers powerful workflows to manage, visualize and exchange such information with any stakeholder participating in the design and construction process."
The software is due to start shipping in June 2016. For more information, check out the ARCHICAD 20 website.