Constructioneering: The New AEC Industry Buzzword?
Bentley Systems, well-known for its 2D and 3D CAD software package MicroStation, recently announced that it has partnered with Topcon Positioning Group to connect cloud services for "constructioneering."
At the Year in Infrastructure 2016 Conference, held in London earlier this month, both companies' CEOs presented new construction workflows designed to increase efficiency and productivity with enhanced integration between their respective cloud services.
This integration will include ProjectWise CONNECT Edition, Bentley's cloud-based document and model sharing platform, MAGNET Enterprise, Topcon's web-based field and office data management system, and ContextCapture, Bentley's reality modeling software. Although ContextCapture previously only worked with photogrammetry, it can now incorporate point cloud data from laser scanners, facilitating the new workflow.
Bentley Systems will be offering its ProjectWise CONNECT Edition users seamless connectivity with Topcon'sMAGNET Enterprise and Topcon will incorporate Bentley's ContextCapture image processing for its mass data collection via unmanned aerial systems (UAS).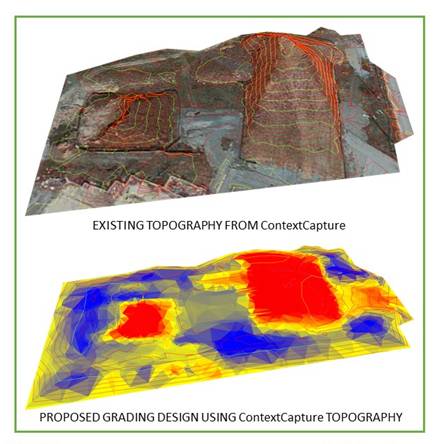 Reality-captured 3D data from ContextCapture. (Image courtesy of Bentley Systems.)
Even with all the advancements in reality capture, building information modeling (BIM) and cloud storage and sharing, 3D data is often still recreated at different phases such as surveying, design and engineering, construction and lifecycle management, instead of being shared.
The goal behind this partnership is to allow for a quicker and more accurate workflow than traditional methods. It provides engineers with an accurate 3D model of the current construction site conditions using Topcon's photogrammetry and laser scanning technology. From there, that data is processed into engineering-ready 3D reality meshes by ContextCapture. Finally, the cloud-based service allows the engineering data to work directly with the construction processes in the field, even to the point where the digital engineering models can feed the 3D machine control that guides the construction machinery.
MAGNET Enterprise. (Image courtesy of Topcon.)
"It's been exciting to work with Topcon to introduce 'constructioneering' so that our engineering users can start from the reality-captured survey context and leverage and update their digital engineering models through the construction process," said Greg Bentley, CEO of Bentley Systems. "Our joint cloud service innovations for constructing and improving roadways, including as-built capture, are enabling the highest level of workflow automation. I believe that Topcon will continue to pioneer new positioning devices to take advantage of every emerging opportunity, and we are enthusiastic about working with them to advance 'constructioneering' into the mainstream for infrastructure projects around the world."
For more information, check out the Bentley Systems website.