How an Architect Used BIM and Augmented Reality to Reimagine Detroit
The built environment is a powerful thing, providing our society with all of the infrastructure it needs to sustain itself—but what happens when it starts to decay?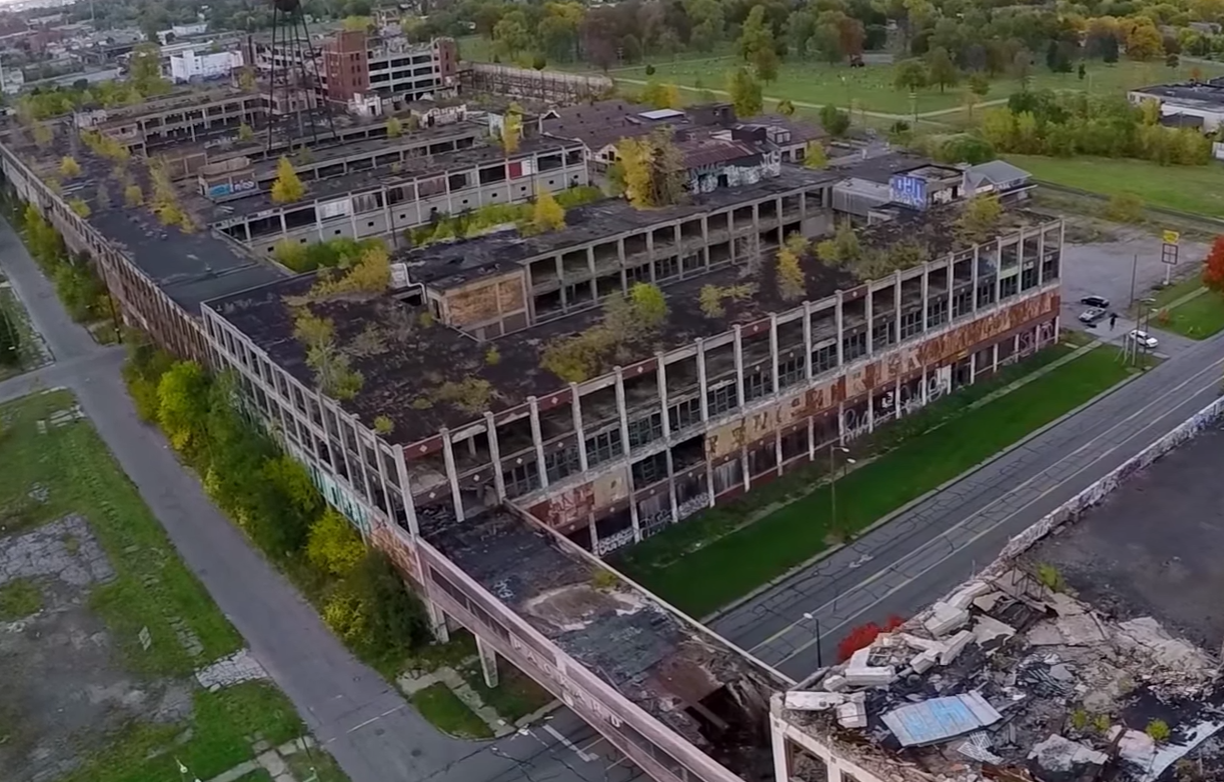 This is a rampant issue in many cities around the world, but there's one name that stands out: Detroit.
The Motor City is known for its thousands of abandoned buildings, from houses to lots to automotive plants. One such factory, the Packard Plant, was built in 1903 and abandoned in 1953 when the Packard Car Company went out of business.
It spent some time being leased out but was later abandoned altogether in 2010 and has since become the object of a revitalization effort by the Packard Plant Project. This made it the perfect candidate for a little architectural experiment.
Bringing an Idea to Life with Augmented Reality
The Packard Plant is no small project. It's not easy for the human mind to envision what one can do with 3.5 million square feet—even with today's modeling capabilities.
"The biggest problem an architect has is getting from the screen into physical space," said Greg Lynn of Greg Lynn FORM, studio professor at UCLA's School of Architecture and Urban Design. "How do I bring some of that virtual stuff and lock it to a physical model to give us a sense of scale, proportion, form and space?"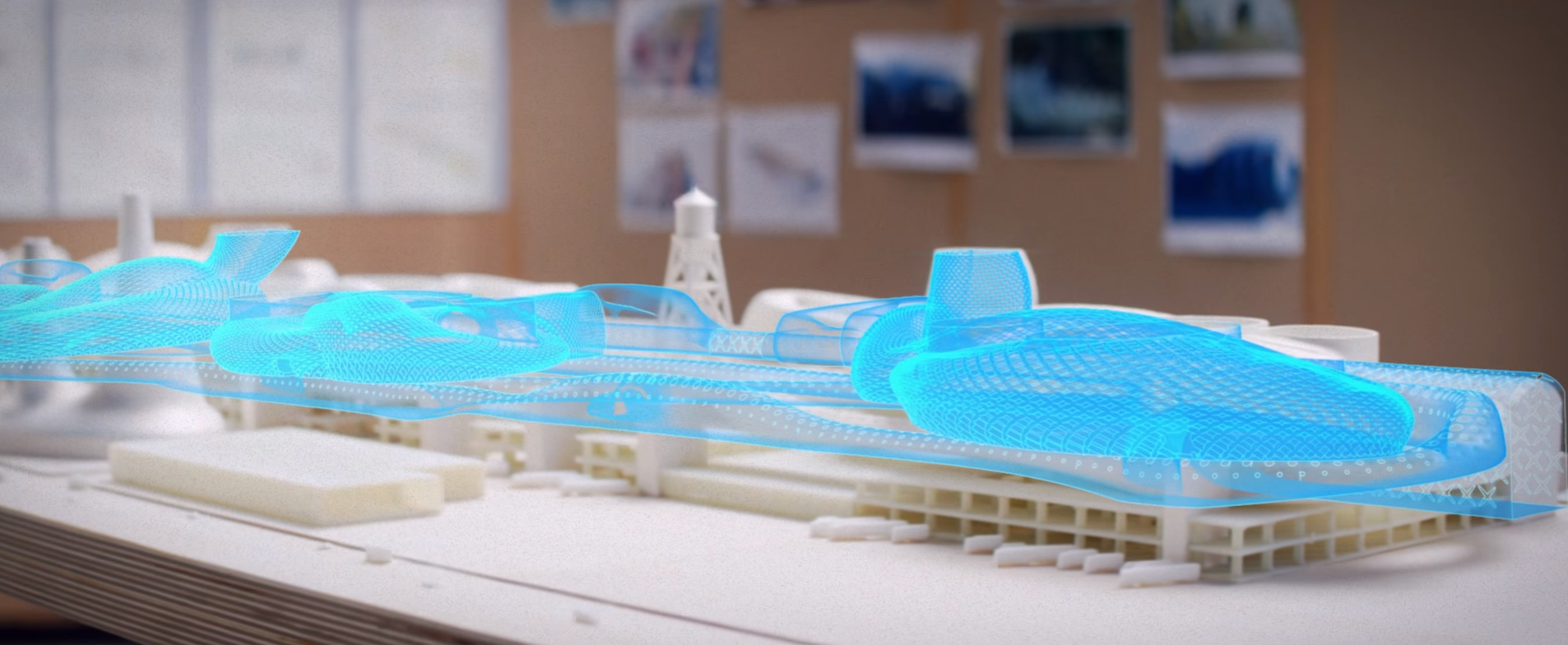 HoloLens technology enables architects to overlay models with virtual renderings to unite the physical and virtual worlds. (Image courtesy of Microsoft.)
When he was assigned the Packard Plant as a commission from the 2016 Venice Biennale of Architecture, Lynn decided to do things a little differently.
"We were asked by the American Pavilion at the Venice Biennale of Architecture to be imaginative and show what's coming with architecture," said Lynn.
Lynn decided that the easiest way to handle a project of this scale was to use augmented reality (AR) in the form of a Microsoft HoloLens paired with Trimble's Connect platform.
Check it out:
The Process
Back in April 2015, Trimble and Microsoft released an announcement that they would be combining HoloLens technology with the Connect platform for building information modeling (BIM). The intention was to create a new set of tools to help the AEC industry move beyond 2D computer screens to 3D models in physical space.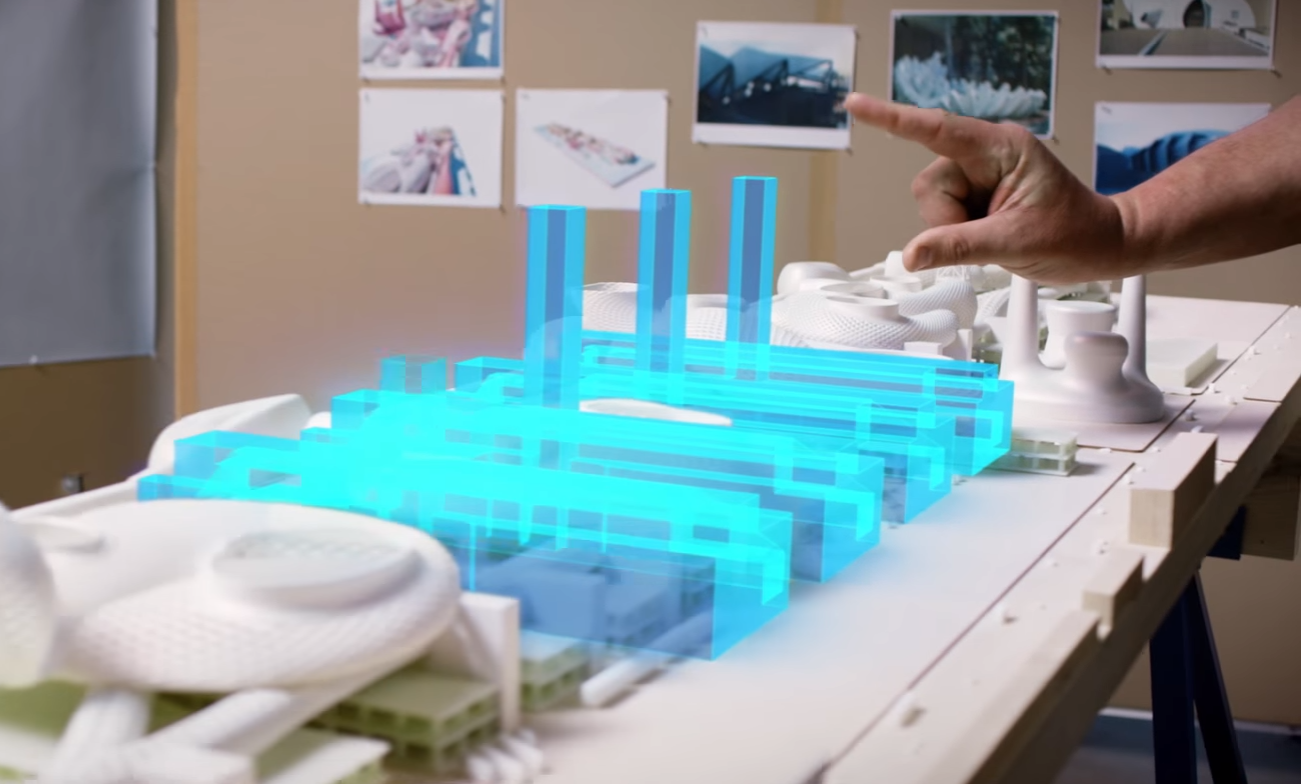 "I'd known about the Trimble-Microsoft partnership on the HoloLens and was just itching to find the right project to do a pilot with it," said Lynn.
For his reincarnation of the Packard Plant, Lynn first created a standard design model. Lynn then used the HoloLens to immerse himself in the project, recreating the scale of the site and the proposed design changes.
During the design stages, Lynn used Trimble Connect to compare the sizes of various structures and obtain an idea of how much space each structure would take up. This gave him a clear concept of just how the design would fit into the allocated space.
Augmented Reality: A Tool for Building Design?
As Lynn demonstrated in the video, AR could well be the next big revolution in building design. This technology places architects and engineers into a project much earlier in the design stages, which has a few implications.
With AR, it's possible for a designer to enter a structure, look up toward the ceiling and get a clear sense of just how much volume a given space has. This in turn gives a better idea of just how to design in that space.
"Without a HoloLens, I would have been making those decisions three, four months from now," Lynn explained.
The technology also played a role in modeling dynamic components of Lynn's design, such as factory vehicles and humans moving about. This enabled Lynn to see just how traffic would flow in and around his design and adjust the design as necessary before construction began.
The Future of Building Things
It isn't clear whether Lynn's design will become the new face of the Packard Plant and kickstart urban reinvention in cities like Detroit, but one thing is clear: in projects like this, augmented reality could well be the tool we need to get the job done.
As a technology, it lets architects and engineers span the chasm between virtual and physical worlds in a way that humans can understand by overlapping virtual objects and geometries onto their physical counterparts.
"I've spent my whole life trying to get things from geometry into the physical world," Lynn concluded. "HoloLens is going to bridge that gap between two-dimensional and three-dimensional and physical space—and that's architecture."
How will augmented reality fit into the future of designing buildings? Share your opinions in the comments below.