How to Use Generative Design in BIM
With its newfound uses designing cars and other gadgets, generative design is creating quite the buzz in the maker sphere. Unsurprisingly, it also has a few other applications—including architecture, engineering and construction (AEC).
One of the biggest challenges in AEC design is that of clash detection. According to Brett Young, CEO and founder of Building System Planning, the clash detection workflow is broken—endless revisions done by team members working separately can lead to missed clashes and bottlenecked projects.
However, Young might just have a solution—and was showcasing it at the SPAR 3D Expo and Conference in April 2016. This solution is GenMEP, a generative design add-on for creating mechanical, electrical and plumbing (MEP) systems in Revit.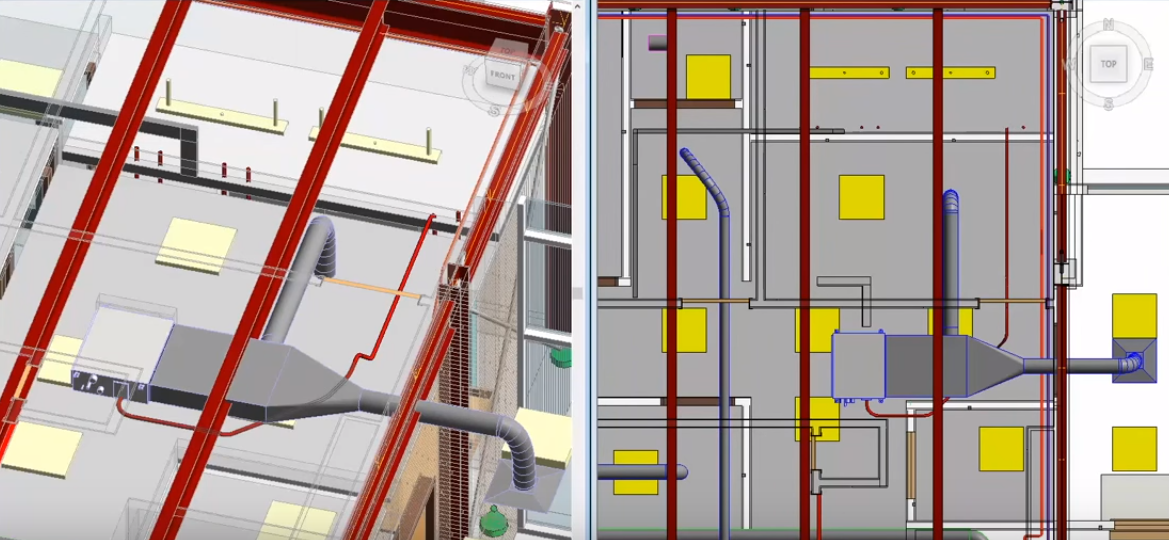 GenMEP uses real-time clash detection and generative design to create MEP systems in Revit, shown here in both 3D and 2D. (Image courtesy of Building System Planning.)
Generative Design for Buildings
As part of the demonstration at the conference, Building System Planning was showing off GenMEP and its clash detection capabilities. The software is the first AEC design product to use generative design for building systems.
Here's a look at how it works:
The software uses real-time clash detection and sophisticated algorithms to draw out the best route for an MEP system, processing meshes, IFC files, other Revit objects and even point clouds generated from LiDAR data to detect potential clashes. This capability holds the potential to reduce the time spent on a project by eliminating human error.
Software Features
While it is designed to create a building's optimal MEP system routing, GenMEP has a few features that let users customize the solution:
Fixed Angle Routing lets the user identify angle specifications for a given route, including any angles, 90-degree angles only or combinations of 90- and 45-degree angles.
Batch Routing lets the user create batch files in order to save routes.
Revit Links lets the user create solid routing paths within point clouds, linked files and imported IFC files.
Route Clearance lets the user create custom clearances on a per-route basis.
Room Control lets the user set custom routing control on a per-room basis.
The software is currently in beta testing, with several demos available on the website. It isn't clear yet when it might become a commercially available product.
For more information, check out the Building System Planning website.